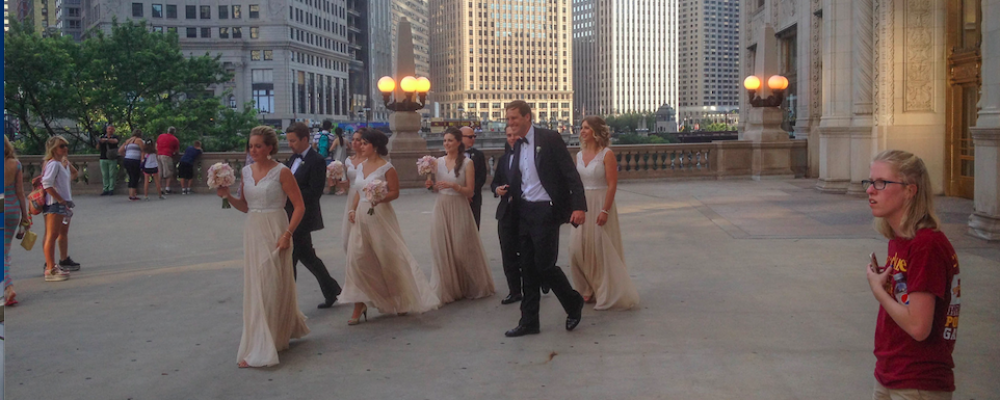 Chicago is a top-notch destination for hosting your wedding.  Centrally located in the heart of America with two major airports, Chicago Midway and O'Hare international.  The Windy City is within driving distance from Rockford, Joliet, and major midwest cities like Milwaukee, Madison, Fort Wayne, and Indianapolis.
From the city to its suburbs, there are spectacular wedding venues like the Theatre on the Lake, the Ravenswood Events Center, the Stan Mansion.  Chicago's is famous for its beautiful hotel ballrooms, check out Trump International Hotel and Tower Chicago, The Peninsula, The Ritz-Carlton and the affordable Hyatt Regency at O'Hare only minutes from the city center.
You may want to plan your wedding accordingly to the weather of your preference.
Chicago is famous for its mild spring and fall seasons.  The coldest month is January, while July is the hottest and wettest month.
Your guests will love Chicago.  Great dining, attractions, entertainment and festivals galore.  festival season.  Major sporting events can be a fun outing for family and friends, check the Chicago Cubs,White Sox, and Chicago Bears schedules
It is easy to get married in Chicago.  We suggest making your arrangements in advance.  Bring an identity card, age proof, and you can get your marriage license beforehand. You should be all set with the right requirements for getting married in Chicago.
Capture memories to last a lifetime in Chicago. The city features a number of spectacular photo opts for your wedding album.  From Chicago's award-winning skyline to the world famous History Museum, the Cuneo Mansion and Gardens and Buckingham Fountain in the center of Grant Park.